Sign Up Now!
..to receive community emergency, advisory, and local Police news!
MISSION STATEMENT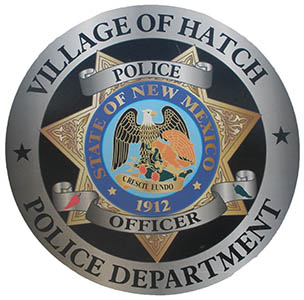 "The Village of Hatch Police Department is dedicated to providing excellent service through partnerships that build trust, reduce crime, create a safe environment, and enhance the quality of life in our community."
We are committed to these principles:
INTEGRITY
We have integrity. We adhere to the highest moral and ethical standards. We are honest and sincere in dealing with each other and the community. We have the courage to uphold these principles and are proud that they guide us in all we do.
RESPECT
We show respect. We recognize the value of our diversity and treat all people with kindness, tolerance, and dignity. We cherish and protect the rights, liberties, and freedoms of all as granted by the constitutions and laws of the United States and the State of New Mexico.
FAIRNESS
We act with fairness. Objective, impartial decisions and policies are the foundation of our interactions. We are consistent in our treatment of all persons. Our actions are tempered with reason and equity.
THE VILLAGE OF HATCH POLICE DEPARTMENT:
Believes that the protection of life and property is our highest priority.
Will respect and protect the rights and dignity of all persons and conduct all citizen contacts with integrity, respect and fairness.
Will strive for excellence in its delivery of Police services and will utilize training, technology, and innovation to achieve that goal.
Recognizes its interdependent relationship with the community it serves and will remain sensitive to the community's priorities and needs.
Will enforce the law impartially throughout the community.
Recognizes the individual worth of each of its members.
If you have an emergency, call 911—DO NOT call the police department! The Village of Hatch Police Department is located inside the Public Safety Complex at #5 Chile Capital Lane. The hours of operation of the front office are 8:00am – 5:00pm and their non-emergency phone number is (575) 267-3021.
The department consists of:
Timmothy Thornton, Chief of Police
Lieutenant Frank Angel, Patrol, Codes Enforcement
Officer R. Garcia, Patrol
Officer A. Hernandez, School Resource Officer
Officer R. Lazos, Patrol
Officer V. Montoya, Patrol
D. Sment, Codes Enforcement, Planning and Zoning
Monica Olvera, Administrative Assistant / Records Manager / Grants Coordinator
The following services are available at the Village of Hatch Police Department:
Codes Inspection and Permits
Police Report - $2.00 per page
Background Check - $10.00
Driving Test - $20.00 (payable to MVD)
Fingerprints - $5.00 per card
Level III & IV VIN Inspections - $100.00 (by appointment only - call MVD 267-1686)
Vendor Permits
Yard Sale Permits – Free (only 3 sales allowed per address per year)
The Village of Hatch Police Department helps to maintain the safety of Village residents through grants such as Stonegarden and ODWI. Stonegarden is a Department of Homeland Security based grant. The Village of Hatch Police Department works diligently and closely with the United States Border Patrol to deter trafficking such as illegal drugs and human trafficking. ODWI provides Officers the ability to keep impaired drivers off the roads and have the tools necessary to maintain the grant such as the IR8000 and Portable RBT.